Summit is almost here!
We're very excited to be attending and delivering training at the Atlassian Summit in San Jose in September 12th-14th. Summit is a superb opportunity to meet other Atlassian users, and we love it because it gives us the opportunity see our friends at Atlassian and catch up with other partners. It's also an excellent event to learn about the latest news surrounding Atlassian products.
There are plenty of useful talks being presented by Atlassian product users this yea. Not only that, but you can attend official Atlassian training delivered by the Atlassian University team as well.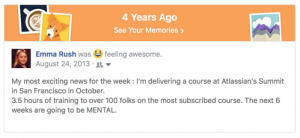 Ah, sweet Summit nostalgia
This just popped up in Emma's Facebook timeline and reminded us that it's been four years since we delivered at Summit!
For that event, Emma wrote and delivered the JIRA/Confluence Integration course which will also be delivered again this year.
---
What's in store for Thinkando at Summit this year?
San Jose Summit 2017 will make the seventh time that Emmas delivered training for this event. This year we are delivering JIRA Adminn1 and JIRA Admin 2, currently the most popular Atlassian University classes. These two classes provide a really solid introduction to JIRA Administration for anyone who interacts with JIRA, not just admins.
There's a lot of info in these courses for admins wether you are an end user or a project admin, it will give you a great overview of JIRA. If you've not already signed up and would like to find out more then follow this link.
Not able to make Summit this year?
If you're not attending Atlassian Summit in San Jose, then don't worry! We deliver the official Atlassian Training courses online and onsite, so we can set you up with a JIRA Administration course or any of the official Atlassian Training courses and we can make it fit in with your schedule!
For more on Thinkando as an Authorized Atlassian Partner visit us here.
https://www.thinkando.it/wp-content/uploads/2019/10/qtq80-ReJBta.jpeg
1440
1920
Emma Rush
https://www.thinkando.it/wp-content/uploads/2019/10/ThinkanddoLogoBLACK-4-300x105.png
Emma Rush
2017-08-30 15:38:47
2019-10-16 20:07:08
San Jose Atlassian Summit 2017 - only 12 Sleeps away